First of all, the [R] on the thread is because you will get spoilers in this thread.
DON'T READ IT IF YOU DON'T WANT TO KNOW WHAT HAPPENS IN THE MOVIE!
- - - - - - - - - - - - - - - - - - - - - - - - - - - - - -
This whole thread may be a Corbomite Maneuver, and yes, trek is corny as hell, but JJ Abrams has really breathed new life into the crusty old canon.
Anybody interested in chatting about it? I'll share a glass of tranya with you if you do.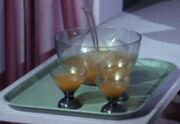 I'm fully ramped up on the lore of the original series, Next Gen, the movies, and the rest of the series'.
For the record, I've never believed in 'No-Win Scenarios' either.
FAKE EDIT: I'm a little scared about when Josh takes over this thread. His analytical skills are like Klingon Disruptors: the only setting they have is disintegrate.