All-time favorite Trek bit character:
Lieutenant Kevin Riley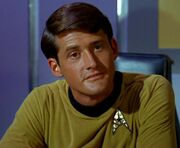 "Now attention, cooks: this is your captain speaking. I'd like... double portions of ice cream for the entire crew. And now, crew: the captain will render an ancient Irish fable... ~ I'll take you home again, Kathleen ~..."

"Uh, Lieutenant Uhura... you've interrupted my song. Er... I'm sorry, but there'll be no ice cream for you tonight."

"Attention crew: this is Captain Riley. There will be a formal dance in the... bowling alley at 1900 hours, tonight. Stand by for more orders..."

"Uh, this is Captain Riley, crew: I have some additional orders. In the future, all female personnel are to wear their hair loosely about their shoulders. And use restraint in putting on your makeup; women – women should not look 'made-up'. Now, crew: I will render 'Kathleen' again...one...more...time!"